Montana's top skincare products of 2020! Find something for everyone on your list, by giving the gift of healthy and happy skin. You wear your face every single day, and trust me it is worth the investment! Checkout my top 5 picks below.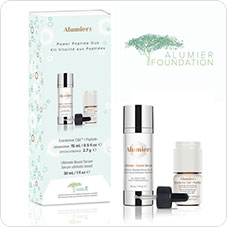 1. AlumierMD Power Peptide Duo Box set
Featuring 2 of Alumier's most popular products, the EverActive VitaminC&E antioxidant serum, as well as the hydrating Ultimate Boost serum. Great for combating dull and dry skin, while reducing visible signs of aging.
Retail price $149+tax
A portion of sales from this kit will be donated to the Alumier Foundation – which helps to build schools in South Africa. More information on this can be found at https://www.alumiermd.ca/the-alumier-foundation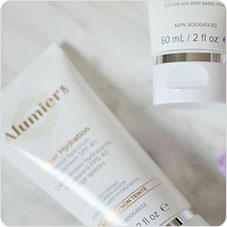 2. The perfect sunblock!
SPF is the most important tool in your skincare routine. It prevents almost 90% of external aging (think wrinkles and sun spots) and reduces your risk of developing skin cancers. Everyone should be wearing one, every single day! NO excuses
Clear Shield SPF 42
Oil free, goes on clear, great for oily, acne prone skin types, and men + women. Retail price $48+tax.
Sheer Hydration SPF 40 Versatile Tint, or Untinted
Great for normal to dry skin as it hydrates throughout the day. The tinted version has a bronzed makeup like appearance that blends out beautifully. Retail price $48+tax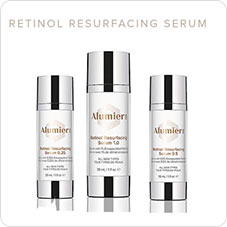 3. Retinol Resurfacing Serum
This my holy-grail product! Retinol is a chemical exfoliator that builds collagen and helps to repair the skin from the inside out. I swear by this for combating fine lines, acne & sun spots! This product comes in 3 different strengths, ranging from a 0.25% to 1.0%. A great rule of thumb to follow is, 'start low and go slow'. Most clients will begin with a 0.25% and build up. Remember, this is pharmaceutical strength retinol and cannot be compared to retinol bought over the counter. Retail price starting at $92+tax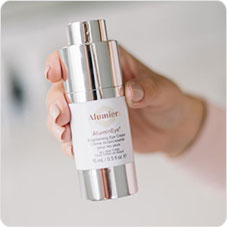 4. AluminEye Brightening Eye Cream
After a year like this, we could all use a little pick me up, and bright eyes do just that!
This luxurious eye cream can be used morning and night, and will help to brighten, tighten, and repair the delicate skin around the eyes. Retail price $94+tax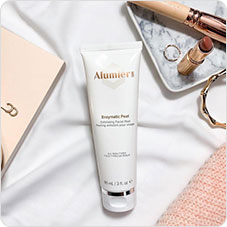 5. AlumierMD Enzymatic Peel
At home peeling has never been easier! This 10% lactic acid product packs a big punch with zero downtime. This product is to be used once weekly to help exfoliate dead skin and reveal a glowing complexion. I make Sundays my 'self-care' day and do an enzymatic peel at home! Retail price $110+tax.